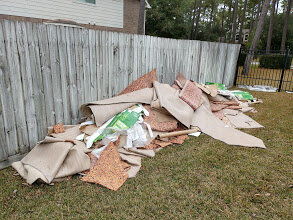 Remodeling Waste Removal




Please call 281-610-6682 to reserve this item

How It Works
Simply put, You Point, We Load! We will fill our 15 cubic yard trailer full of your remodeling and construction waste like boards, sheet rock, and flooring, and haul it off to the landfill. Includes boards, sheet rock, lumber, siding, toilets, counters, cabinets, and more in your front yard, back yard, driveway, or garage. Limit 5,000 pounds included in price (more of a concern for tile and concrete). We pick up junk in Houston! If you want us to take more than 15 cubic yards volume, we charge extra per extra cubic yard. It typically takes 1 to 2.5 hours for us to finish loading once we start.
Does not include tile, concrete, shingles, dirt, boards over 14 ft longs, and fire pit removal or extra demolition labor if needed. Does not include excessive distances from trash pile to loading point. (for commercial sites with limited parking or large back yards).
Some common situations we encounter:
Remodeling waste in the garage:
A lot of times when a home owner is doing a DIY project or even hires it out to a carpenter or remodeler, they don't know how long the project will take and don't necessarily want a dumpster sitting in their driveway for weeks or months. Not only can it cause issues with the neighborhood HOA, but holding on to dumpsters for longer periods drives up rental costs after the initial time include in the rental. What many of our customers do instead is utilize their garage as a temporary holding space for their remodeling waste, and then call a junk removal company like us to load up and haul all the waste once their project is finished. For instance, we clear a lot of kitchen cabinet, sheet rock, boards and tile from peoples garages from kitchen remodels or water damage restoration projects. Most peoples garages are about 20ft wide by 20ft long, and can stack trash up to 6 ft or higher, which can be the equivalent of 80 plus cubic yards or two 40 yard dumpsters worth. Most junk removal companys use 15 cubic yard trailers or trucks to pick up construction waste, so depending on how much stuff you have to throw away, it can take multiple loads or trips to complete.
Construction waste in the backyard:
Another common option is to throw the sheet rock, wood, and flooring in the back yard for a week or two until your project is done and you are ready to get the trash hauled off. Honestly, we junk haulers much prefer it when you throw it in the garage, and the price will usually reflect this, but we are still happy to help. This is okay for smaller amounts of trash, but for larger jobs it involves more labor. There are a few advantages to putting the trash in the garage, including easier access and loading, and keeping the construction materials dry. When its in the garage, we can back right up to it so we have shorter loading times and effort. When its in the backyard however, typically we have to hand carry or wheel barrow everything 10 or more feet, and also squeeze it through a gate. If you have sheet rock, it will typically get wet, crumbly, weigh more due to moisture, and thus be harder to pick up and load, and also get mixed in with the dirt/grass, making it necessary to hand excavate or rake iot out, as opposed to just scooping off a concrete floor with a shovel (same goes for tile). If it is bagged, after a short amount of time in the sun the bags will start to become brittle and will break under the heavier weight of the (now wet) construction waste, making it hard to carry. Carpet and padding also becomes extremely heavy and hard to move once it gets soaked by a good rain.
Remodeling waste scattered throughout inside the house or commercial facility:
Sometimes our customers leave several smaller piles of boards and sheet rock throughout the house or building in seperate rooms. All you have to do is point to what you want gone and we will pick it up and haul it through doorways out to our trailer. When its inside the house, just expect it to take a little longer as we navigate hallways and doorways, and downstairs, being careful not to scatch the walls or doorways. When its inside the house, 15 yards of construction waste might take 2 guys 3 hours to load as opposed to maybe 30 minutes from a garage. When its from a commercial building or facility and there are elevators involved and long distances from the building to a loading point in a parking lot or parking garage, we do tend to charge an extra hourly rate to account for the extra time, labor, and general difficulty. Loading just one trailer from commercial buildings might take a two man crew an entire day in some instances.
Remodeling waste on the curb or driveway:
Honestly this is our favorite location. You don't even have to be home to meet us if you want to go this route. It allows us to park right by the trash and just toss it in. Customers do this a lot for deck boards, fencing, and sheet rock.
Roofing and shingles:
We get the occasional call from customers to haul of roofing shingles. Although the usually hire a roofing company which almost always hauls off the shingles with them, sometimes they don't, or the customer has done their own roof. Typically the shingles have been thrown off the roof around the perimeter of the house and they need to be picked up by hand, thrown into a wheel barrow, and carted to the trailer and loaded. This is actually a very time and labor intensive task and can take several hours to do, so expect to pay a premium. Its much better to have this included in the tear off and replacement of your roof if you are hiring it out.
Large amounts of brick, dirt, tile, concrete, or rock in the back yard:
Cases like this are honestly better suited to someone with a skid steer loader and a dump truck. These denser materials tend to be around 2,000-3,000 pounds per a cubic yard, so ordiinary trailers and trucks can handle the weight if filled to capacity, hence the need for a dump truck. We are happy to try to refer you to a qualified company in your area if you give us a call, but our 15 yard dump trailers tend to max out at 10,000 pounds of waste and can't handle 20,000-30,000 pounds at a time.