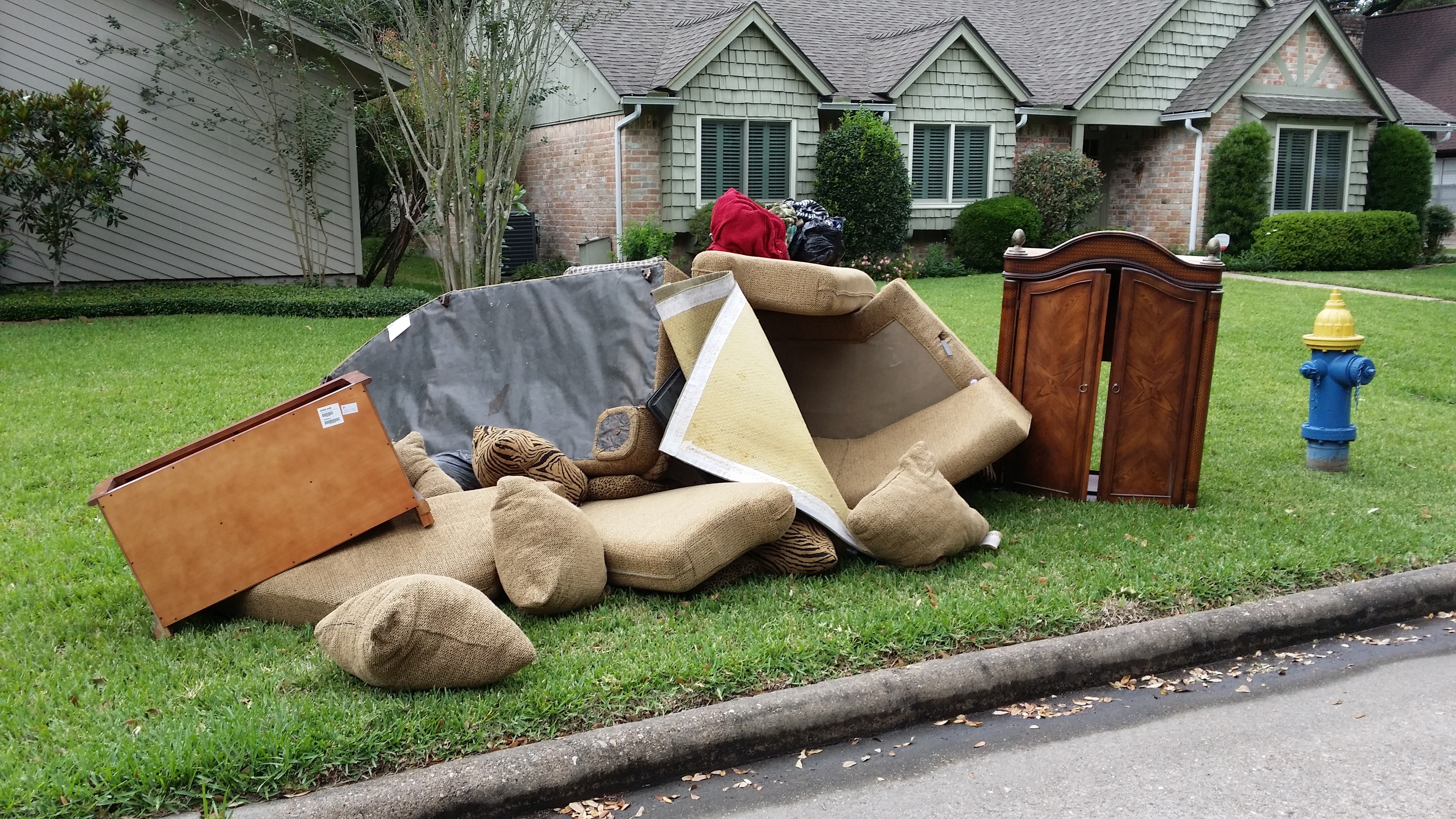 Junk Removal and Hauling at $33-48 Per Cubic Yard. You Point, We Load!
$185 plus tax minimum, Household Junk and Furniture

More Info...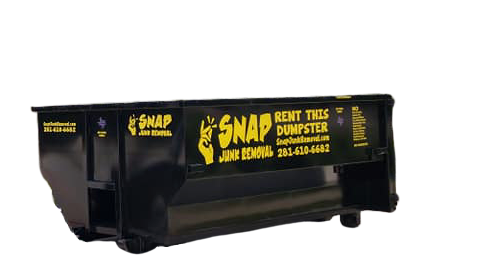 $400 15 Yard Roll-Off Dumpster Rental
For heavier waste like tile, roofing, and sheet rock and lower step up these 15 yard roll-offs are the way to go.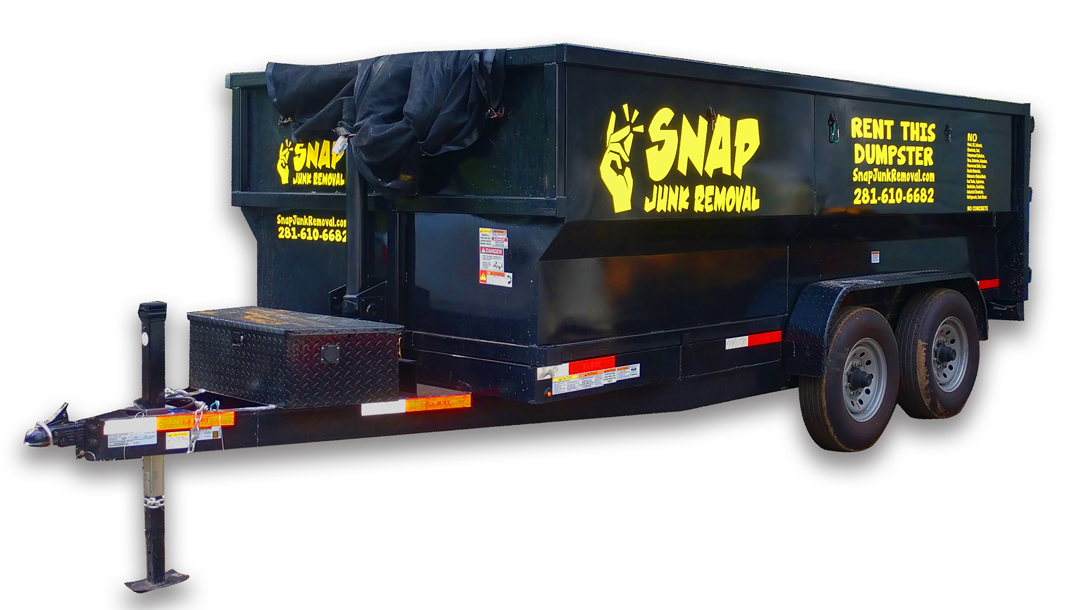 $400 Trailer Dumpster Rental 15 Yard
For Household Junk, Furniture & Remodeling Waste. 15 Yard 1-3 Day Rental, 2,000 pounds included, Max 10,000 lbs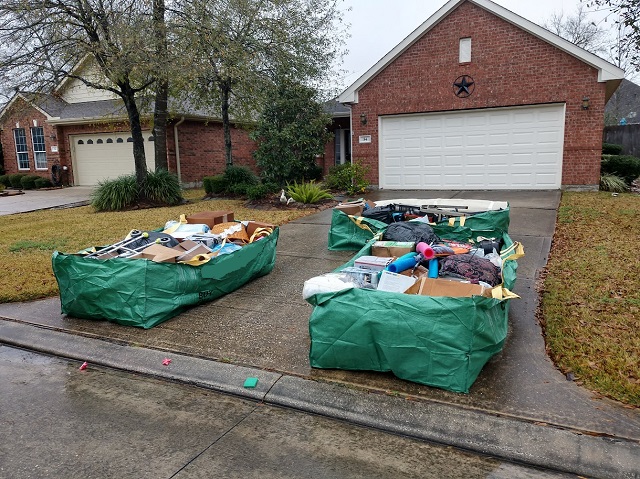 Dumpster Bag Pick Up
We can pick up any dumpster bag and get to it on schedule and it doesn't have to be curbside.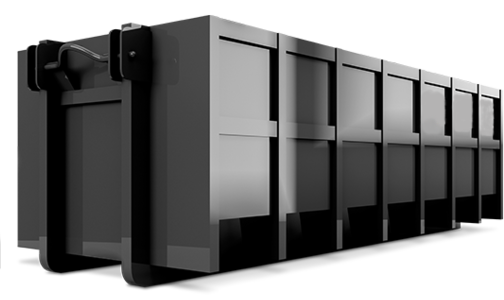 20, 30, 40 Yard Roll Off Dumpster Rental
For your larger remodeling and construction waste projects, these roll-off dumpster rentals are the way to go. Pricing and availability depends on your service area. Call 281-610-6682 or click the link to find out more about sizes.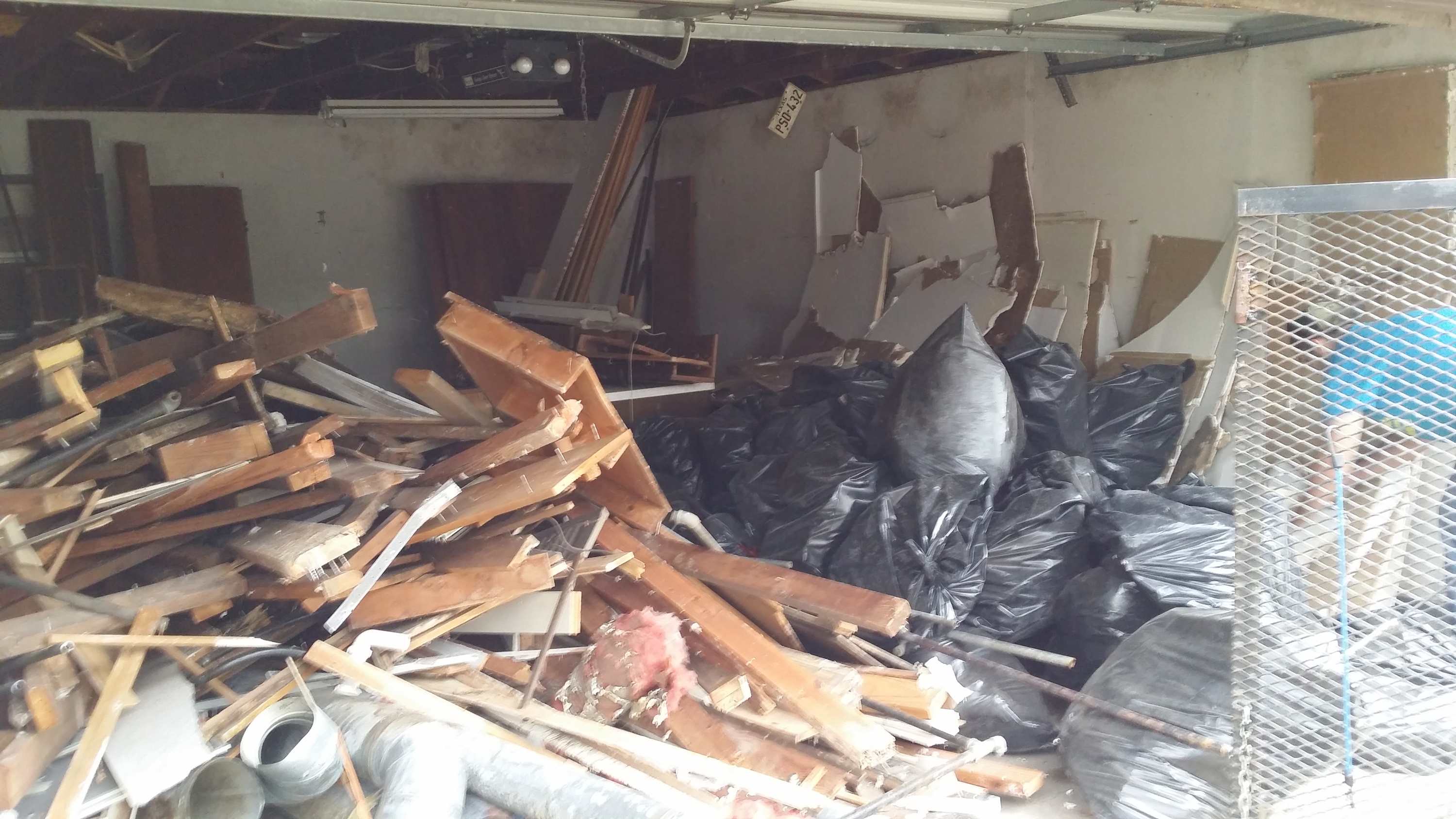 Demolition Services Contractor
We remove sheds, decks, hot tubs, wooden playgrounds/playsets, above ground pools, and even remove interior sheet rock, cabinets, carpet, flooring (we can take a house interior down to the studs).
Houston, let Snap Junk Removal's team experienced junk haulers help you get rid of your garage junk, yard waste, office waste, construction debris, appliances, furniture, and more. We offer 4 convenient options:
15 Yard Driveway Friendly Dumpster Rental (1-3 Days)
In Home / Garage / Driveway / Curbside Junk Pick Up Service ($33-48 per cubic yard) or
20, 30, and 40 Yard Roll-Off Dumpster Rental (1-10 or More Days)
Snap Junk Removal is a locally owned junk hauling and dumpster rental company in Northwest Houston aimed at providing you with the quickest service. We pick up junk in Houston. Don't get stuck waiting around for those other junk removal companies to show up or get gouged by their outrageous franchise prices. Call us now at 281-610-6682. Open Monday through Saturday. Full service and curbside pick up available, no need to wait around for us like the cable guy. Call now for immediate service or to make an appointment, or click here to schedule online.
Why Roll Off Dumpster Rentals?
For bigger projects, 20 yard, 30 yard, to 40 yard dumpsters can handle just about any type of remodeling project waste in high volume. Prices typically include up to 10 days of rental. Got a smaller project? With prices starting as low as $400 dollars plus tax, our service professionals can provide our 15 cubic yard dump trailers (14'x8'x4') foot trailers to throw away your household junk, garage junk, furniture, branches, remodeling waste and appliances. Price includes up to 3 days rental. Don't want to load it yourself? We can also haul your household junk and remodeling waste from off from inside your home, garage, driveway or curb. Prices vary (Full Service $33-$48 per a cubic yard) depending on type of waste and location for our full-service loading options, click on the pricing tab for details. Just set your waste out on your driveway and give us a call. We don't just do household trash, we can take boards, sheet rock, carpet, flooring, kitchen/bathroom cabinets, toilets, fixtures, decking, insulation, glass, tubs, and more. Prices do not include large amounts of tile, concrete, dirt, or masonry products.
Great Low Prices - Lower prices than larger companies like 1-800-Got-Junk. No hidden surcharges of any kind! Check out our prices page.
Curbside Service Available - Fill out our contact form and send a picture, we will get back to you with a full quote and you can pay later with a credit card. No need to wait at home for us.
Locally Owned and Operated - We can give you quicker and cheaper service, with a personal touch because we are locally owned and operated.
Flexible hours- We aren't afraid to work late hours to make your project happen. We are available 6 days a week from 8am-8pm to answer any questions you may have.
Local Houston Dumpster Rental Now Available!
We offer 15 yard dump trailers (like a roll-off) which are 14ft long by 8ft wide by 4ft tall and hold up to 10,000lbs. 1-3 days for $400 plus tax, each additional day only $20 more with reduced rates for multiple empty & returns at same location. CREDIT CARD or debit card REQUIRED FOR RENTAL We also offer traditional 20 yard roll off dumpsters and larger sizes. Prices vary by delivery area and weight, call for up to date pricing.
Demolition Services
Got an old wooden deck that you're afraid to set foot on, a shed with a leaky roof that is about to fall over, or a hot tub that no longer works and is starting to stink? We remove sheds, decks, hot tubs, wooden playgrounds/playsets, above ground pools, and even remove interior sheet rock, cabinets, carpet, flooring (we can take a house interior down to the studs).
Book Now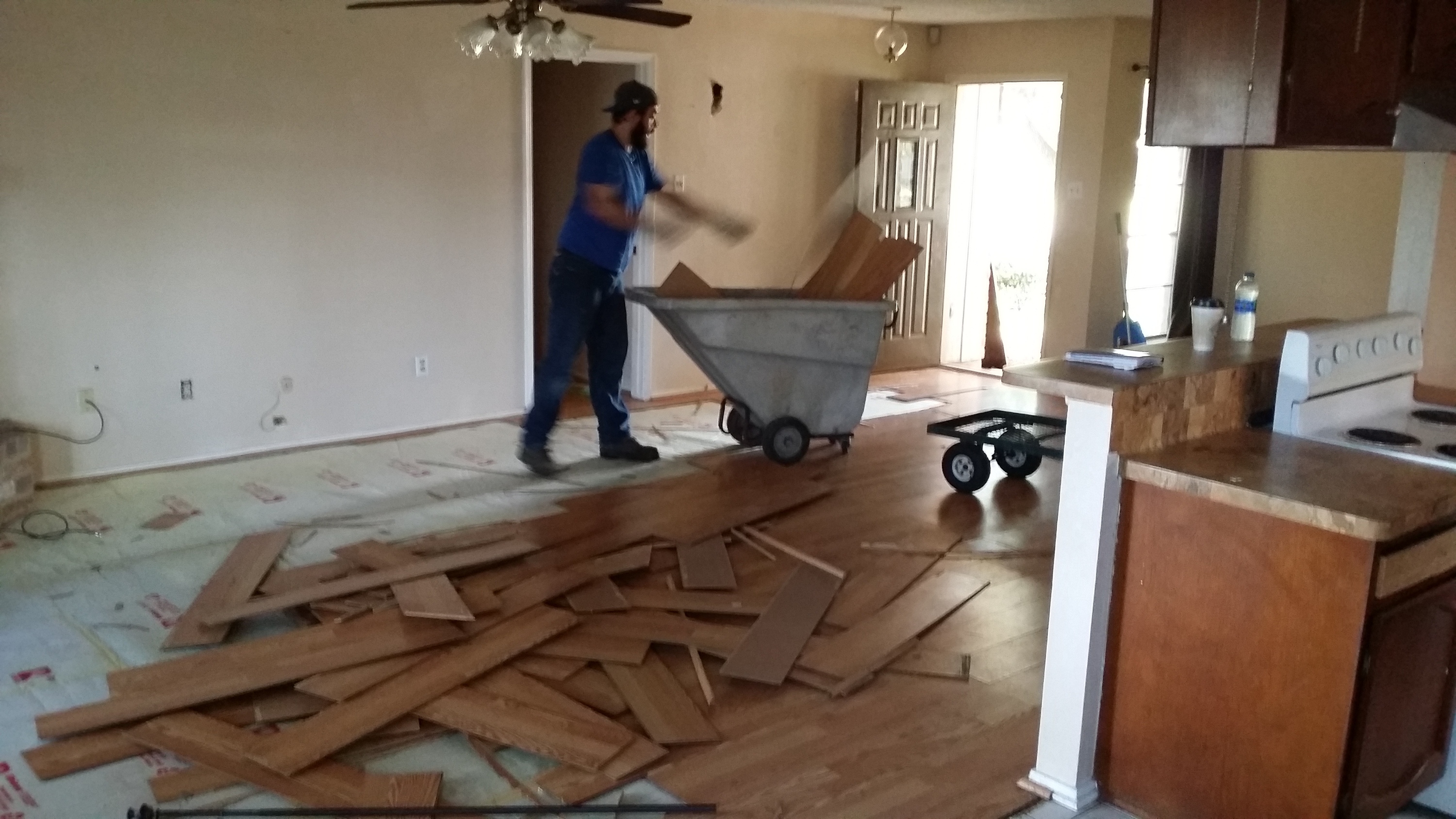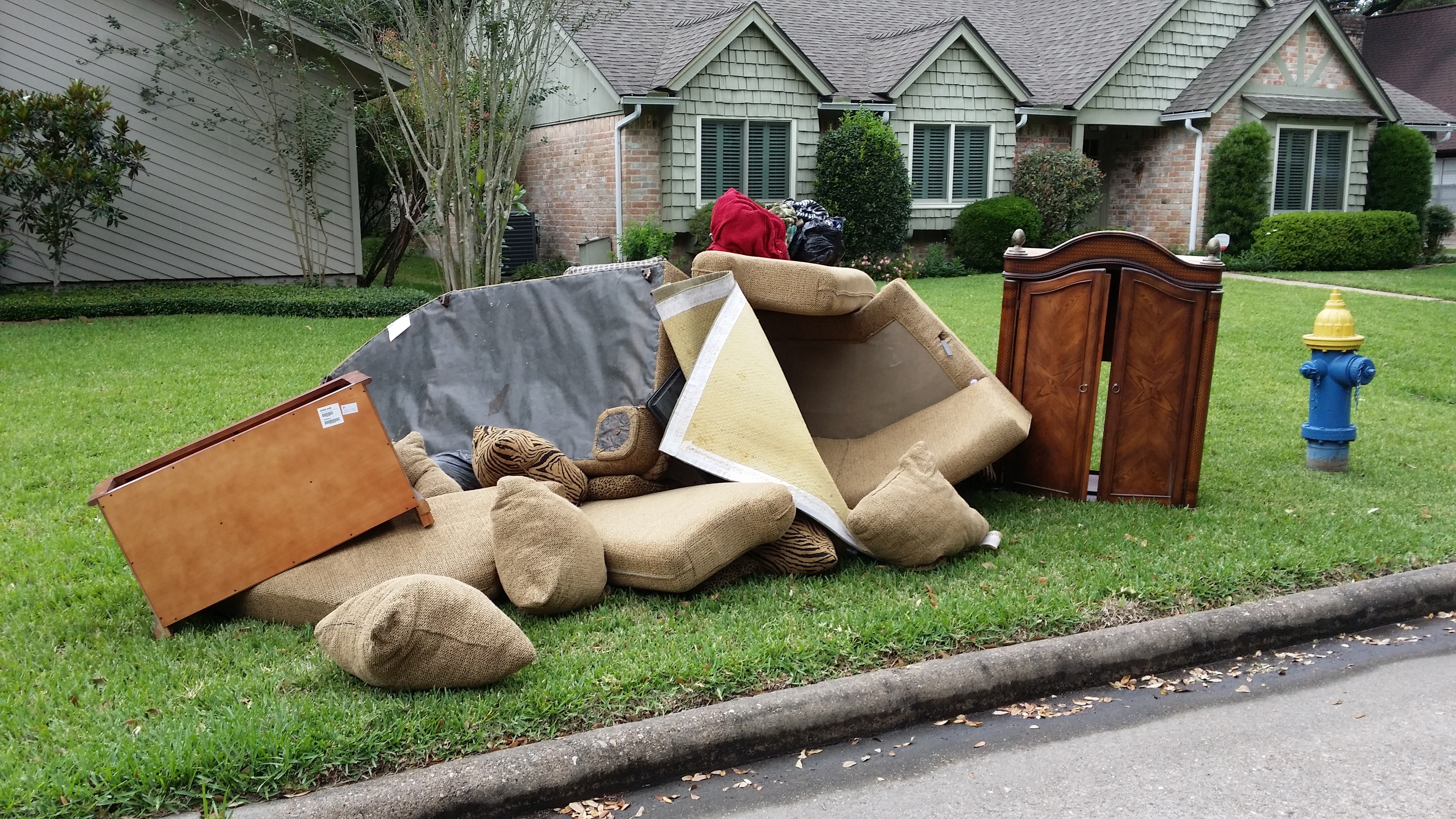 You Point We Load In Home and Curbside Junk Haulers Houston
We can send guys out to load your junk and haul if off, or we can take it off your curb or driveway. We come out with one of our 15 yard dumpsters and charge you based on how much junk we take away. This option is great for everything from garage and attic cleanouts, furniture removal, back yard junk, moving trash, and more!
Book Junk Removal Houston
15-Yard Dump Trailer Dumpster
With the capacity to hold up to 6 pickup truck loads of junk, this is your go-to for kitchen and bathroom remodeling debris, construction waste, furniture removal, lumber, branches, and more. This is the one you want to choose if you're planning a remodel as it has plenty of space and durability for whatever you throw its way. It also has rubber wheels so it won't scratch your driveway like some traditional roll-off dumpsters.
Book Dumpster Rental Houston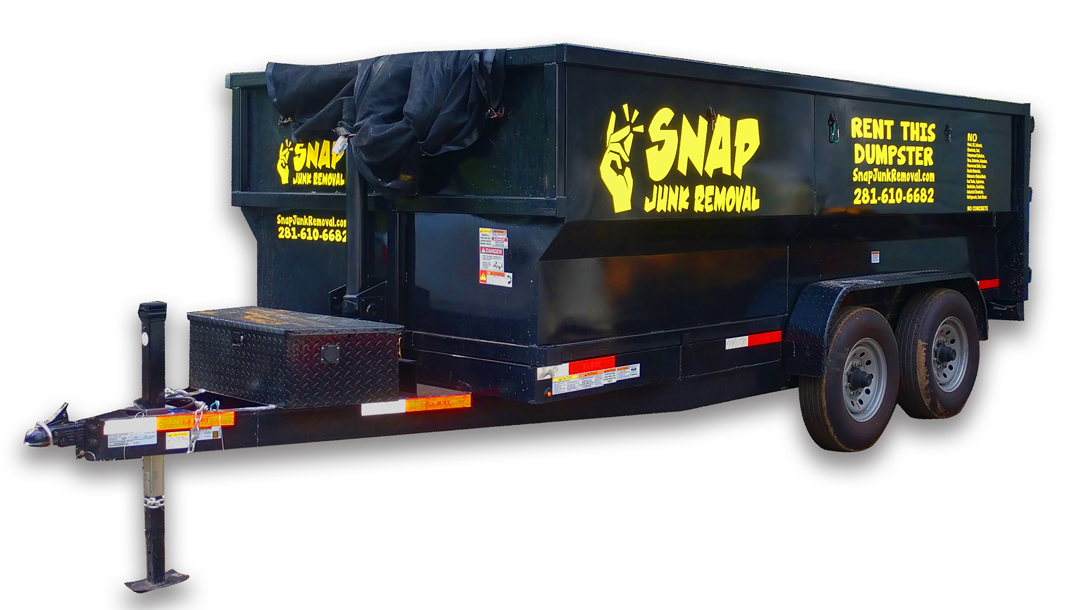 Call us today! 281-610-6682
Why delay your next project when Snap Junk Removal makes getting rid of your unwanted junk a cinch? When you choose to rent your dumpster from our network, you can rest assured that you're receiving the highest quality dumpster along with good old fashioned customer service and care. We're proud to serve our community and take pride in helping complete projects all over town. Should you have any questions, we invite you to get in touch with us through email, text, or phone. We come in early and stay late to make sure we're here when you need us. When you're ready to get started, you can reserve your dumpster using our easy online ordering system. Our mission is to take the stress and guesswork out of dumpster rentals so that you can keep moving with your day.
Office Hours
The team at Snap Junk Removal is here for you 6 days a week, Monday through Friday, 8:30 am to 5:00 pm, and Saturday from 8:30 am to 2:00 pm.
Our Service Area
Snap Enterprise LLC is proud to serve the following communities in and around Northwest Houston:
Houston
Spring
Cypress
Tomball
Magnolia
Katy
Pinehurst
Jersey Village
Rosehill
Hockley
Waller
The Woodlands