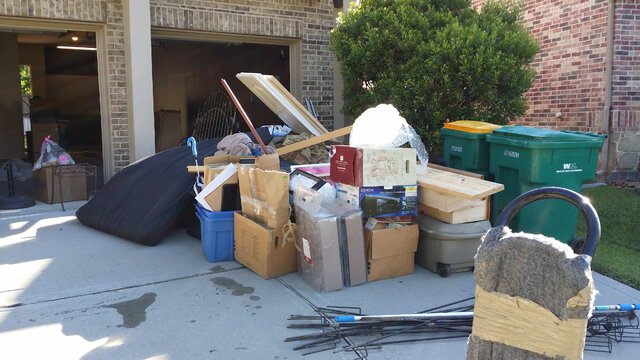 Household Junk and Furniture Removal




Please call 281-610-6682 to reserve this item

Household Junk and Furniture Removal - How It Works
Simply put, You Point, We Load! For junk removal service in Houston, we will fill our 15 cubic yard trailer full of your unwanted household junk and furniture and haul it off to the landfill. Includes furniture, household trash, garage junk, appliances, and more located in your house, front yard, back yard, driveway, or storage unit. Does not include remodeling and construction waste or demolition work. If you want us to take more than 15 cubic yards volume, we charge extra per extra cubic yard. It typically takes 1 to 2.5 hours for us to finish loading once we start.
Just call or book an appointment on line and then we will let you know when our workers are in route on the scheduled date and time. You can then point to what you want gone, we'll load it, and then haul it off. The dump fee and labor are included in the price. Pricing is based mainly on volume, and you can get a good idea of what we will charge just based on how much junk you have, but of course we are happy to provide a no obligation in person onsite upfront quote when we arive if it is very clear which trash will and won't go.
We can haul it off from pretty much anywhere on your property including couches from upstairs, junk and furniture from your garage, mattresses and desks from bedrooms, junk thrown out in your back yard, junk stored in your back yard shed, boxes from your attic, moving trash you have thrown out on your driveway, storage unit junk (that you have paid more to store for years than it cost you to buy in the first place), etc. Our workers will do all the loading and heavy lifting for you.
Need extra time to sort through things? Just let us know and we will patiently wait for you to dig through boxes from your garage, being careful not to throw anything in a truck without getting your permission first. We realise that moving can be stressful enough, and that you and your family may need a little time to organize your belongings and get permission before throwing things away. We find that once you decide to get rid of a few things, the process gets easier and you'll soon be asking yourself why you held on to some things for so long.
The most common junk hauling projects we encounter are from customers either moving in or out of a home, but we also run across a lot of other situations brought upon by deaths in the family, kids or parents moving out, investment property makeovers, tenants moving out and leaving behind a mess, job transfers, remodeling jobs (carpet removal, kitchen cabinets, sheet rock), furniture purchases (need to get rid of the old stuff), garage clearing so you can park your car, hoarding type situations, storage unit cleanouts, commercial facility and business property clean outs, apartment unit and condo complex haul offs and trash left by the dumpster, and even bed bugs.
What We Take
With this service, we take a variety of items including but not limited to:

Mattresses
Refrigerator or Freezer (must be empty of food)
Couches
Desks
Bed Frames
Appliances (washer, dryer, stove, etc)
Boxes
Bagged Trash
Bagsters (up to 800 pounds)
Computers
Clothes
Dishes
Garage Junk
Food and kitchen trash
Books
Lots more