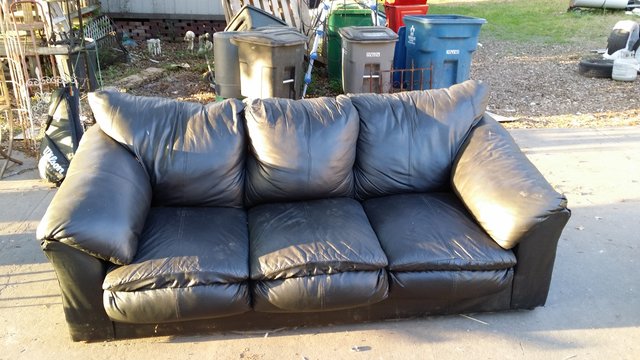 Couch and Mattress Removal - Bulky Item Pickup




Please call 281-610-6682 to reserve this item

Couch Removal, Mattress Removal, Appliance Removal and other large bulky items - How It Works
Our bulky item and small job pickup costs $185 plus tax, and includes one to two large items or up to 3 cubic yards in volume total. This service is great for people that only have only one or two peices of furniture or appliances that they need to have hauled away. We send our guys to you to pick up and take away what ever you need gone. We can come into your home and pick up and maneuver your furniture out, or you can just put it out on your driveway, curb, or sideyard and schedule a pickup. For junk removal houston texas, you don't even have to be home. Items must be under 350 pounds each to qualify for this pricing. Price does not include hot tubs, decks, sectionals or sheds. If you have more than 3 cubic yards of waste, we charge $30 per a cubic yard extra.
What We Take
Our bulky item and small job pickup is one of our most popular services we offer. With this service, we take a variety of items including but not limited to:

Mattresses
Refrigerator or Freezer (must be empty of food)
Couch
Desks
Bed Frames
Appliances (washer, dryer, stove, etc)
Boxes
Bagged Trash
Bagsters (weight limits may apply)
Couch Removal Houston
Couches typically require two junk removal professionals to realistically get them out of your house without dragging across the floor, to be able to shift through doorways, and not scuff the walls. Not all couches are created equal. Sleeper sofas with metal frames tend to be MUCH heavier and harder to manuever than other couches, pro tip, bungee or tie the fold out bed part in place before picking up to move sleeper sofas. Sectionals tend to be a little bit bigger volume wise, sometimes taking up half a room, so sometimes the pricing might have to be a little more to account for increased dumping costs and space taken up in our junk removal trailers. In some instances where there are stairs involved and limited space, we've even had to resort to cutting the metal or wooden frames of couches before removing them.
When removing couches, we prefer to take off the cushions first and throw them away so they don't fall off and trip us up, and also it helps reduce the weight a little bit. To haul off the main part of the couch, we pick it up on both ends and rotate it diagonally to be able to get it through doorways. For tight fitting couches we end up compressing the cushion side against the doorway to fight for extra space without scratching anything. When going down stairs with multiple landings and some entrances that have less than 6ft length in front of the exit door, we also end up tilting the couch vertically tallwise and then manuever the bottom end throught the doorway first. These sorts of practices can be impossible to do by yourself, or at least difficult even with 2 people, so it helps to have experiences junk removal specialists with strong backs and knees.
Love seat couch removal tends to be simpler due to its smaller size and shorter length. Sectionals can sometimes be easier as well because they can typically be separated into pieces carriable by one person. Futon mattresses can be a little heavy and awkward to pick up, but they don't pose much of a risk for doorways, and futon frame removal is typically easy because they fold flat easily and aren't that heavy.
Recliner Removal
Most recliners and lazyboys tend to be just large and awkward enough to need 2 people to remove. We find ourselves having to turn them sideways to be able to get them through doorways. Sometimes you can slide off the top end of some models. Models with electric motors in them can get quite heavy and awkward and sometimes require a dolly to remove.
Mattress Pick Up Houston
We also provide mattress removal service. We can haul off king size, queen size, full size, doubles, and singles, and also take away the box springs. Fortunately there are mattress recycling facilities in the Houston area, and local dumps are taking measures to enforce the recycling (charging more to dump mattresses so they can divert them) of them. Full size and single size mattresses can be relativley easy to remove yourself, but a lot of people just don't have the pick up truck and time to be able to take them to the dump. King size and queen size mattresses removal on the other hand can be challenging to perform solo and often requires 2 workers. Older mattresses tend to get a lot heavier from all the dust that builds up by the time people decide to get rid of them.
Refrigerator and Freezer Removal Houston
We can pick up old broken refrigerators too. Technically you need to have the refrigerant drained before we are aloud to pick them up and dispose of them, but by the time customers call us to have their old fridge hauled away, they are typically calling because they are no longer working and all the refrigerant has already leaked out. We take them to local scrap metal recycling facilities, not only for environmental purposes, but also because the landfill won't take them. Most large refrigerators these days are 250-350 pounds, and require a dolly and two men to tip them over and get them through doorways. Frequently, you will have to remove the refrigerator handles and/or doors off their hinges to fit them through front doors. Alternatively, if you're skilled and have a partner, sometimes you can open the doors and rotate the fridge out the doorway in the upright position.
A common problem we encounter when removing old fridges is that the drip pan at the bottom has collected condensation and mold and some other gross stuff for years, and when you go to tip the fridge over, it leaks out on the floor and smells gross. Make sure you are prepared for this with towels. We also encounter frequent issues with the water hose connection to the fridge ice maker. People frequently hold on to their appliances for 10 years or more and when we go to shut off the water valve, it can be rusted/corroded and also have non-functioning/dried out gaskets and seals. Be prepared to turn the water off in case of an accident and don't be surprised if you need some pliers to remove the water line.
One of the more frequent situations we encounter is that a neighborhood or home had a power outage and all the food in the fridge or freezer went bad and rotted, creating a smell that is impossible to get out of the otherwise functional fridge. If this happens to you, please make sure to remove and bag the food as quickly as possible. Unfortunately, the landfills won't take refrigerators because they have hazardous chemical refrigerants in them, but the recycling facilities won't take them with food or old deer meat in them, which means, somebody has to remove all that gross rotten food at some point. If you want a junk removal service to do it, be prepared to pay extra, as it can be quite a gagfest to make this happen.

Bed Removal
We can also haul off all your old bed frames. Larger bed frames will often have to be dissassembled before we can get them out of the room. Sometimes this is easier said then done, as screw heads get stripped or stuck. Sometimes we just break the frame or sawzall it for the sake of expediency. The smaller simple foldable metal frames that box springs rest on don't really pose much of an issue, but larger metal and wooden bed frames sometimes require more work.

Chest of Drawers and Desk Removal
We like to remove all the drawers out of desks, night stands and clothes chest of drawers when they feel a bit heavy, just to lighten the load and also give ourselves more places to grip. Sometimes customers also forget they have certain valuable items in them as well, such as jewelry or firearms, so this helps them recognize this before we take it to the dump. A lot of desks we prefer just to put on a dolly to cart out. but when there are stairs involved, we tilt them over diagonally with one worker at each opposite corner. Some heavy wood furntiure is next to impossible to move by yourself, so we are happy to send out our junk removal professionals.
Table and Chair removal
If you have a dining room table and chairs you need hauled off, we can do that too. Pricing depends on volume. We can manuever out the table without scratching your walls or doorways. Sometimes we may have to remove the legs or base as well as some of the leafs to accomplish this.
Need To Rent A Dumpster?
You may need to haul away more than one or two items. If so we recommend taking a look at the dumpster rentals that we offer. They come in various sizes and will assist you with just about any job you can think of, big or small. Dumpster rentals are available to Houston and surrounding areas.