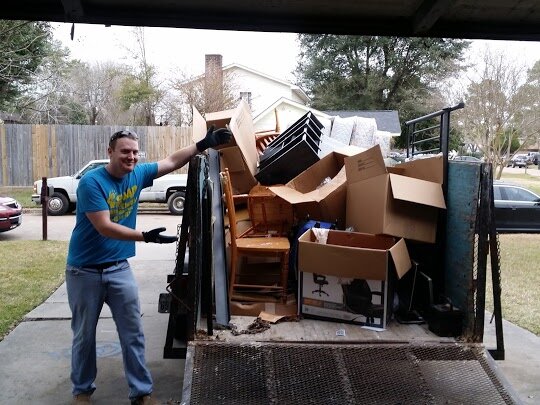 Junk Removal




Please call 281-610-6682 to reserve this item


Snap Junk Removal also offers full service junk removal in the Houston area. We send out two workers with a truck and 15 cubic yard trailer to your property or jobsite. Our experienced junk haulers will break down and remove everything that you need gone. With our junk removal service, we do all the dirty work so you don't have to. This service is great to help clean up after moving, or full house cleanouts. Call 281-610-6682 if you have any questions.
Full Service Options Prices: You Point, We Load!: WE CAN DO ALL THE LOADING!
$185 plus tax minimum on all jobs:
Household Junk and Furniture on Driveway, Curb, or Garage: $33 per a cubic yard (about $490 to fill our 16ft trailer, prorated).
Household Junk/Furniture in house or backyard: $33 per a cubic yard.
Remodeling/Construction Waste on Driveway, Curb, or Garage: $35 per a cubic yard, to account for the extra weight/difficulty. (about $525 plus tax to fill our 15 cubic yard trailer). Max 5,000 pounds included in price.
Prices do not include large amounts of dense materials such as tile, dirt, roofing, brick, and rock, as these materials weight 2,000+ pounds per a cubic yard, and easily exceed our weight capacity and increase our dump fees.
Whole Home Trash Outs for Real Estate Investors:
If you are a real estate investor, we are happy to come give free quotes in person for whole home trash outs. We can come clear out entire homes, we have references from local home flippers and landlords. We accept Credit Cards, PayPal, Cash, and Checks.