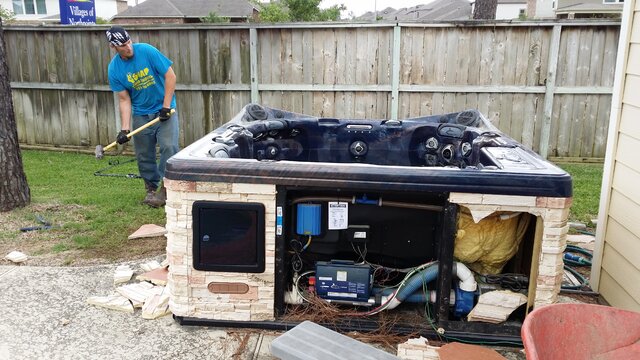 Hot Tub Removal




Please call to reserve this item

Hot Tub Removal Service Process
Schedule your hot tub / above ground spa / jacuzzi removal and we will send out 2 workers to get rid of it. Our process depends on the layout of your back yard and how heavy your particular model of hot tub its. Typically we will use a sawzall to cut it up and remove it in peices because they are usually a little too heavy (up to 500-800 lb or more) for two guys to lift outright. Also, half or more of the backyards we remove them from have gates that are too narrow to fit the hot tub through. However, if your gate is wide enough and the hot tub is not too heavy, sometimes we can put it on our heavy duty cart and just roll it out. The removal process usually takes 1.5 hours or less. Some hot tubs that have the entire contents encased in a hard foam insulation that can be a little more challenging and time consuming to cut up. Sorry but we do not cap off the electrical connections (or plumbing if applicable) afterwards, as we are not licensed electricians or plumbers and have to avoid related liability issues. If there is a deck below the hot tub that you would like removed it is not included in the price. Add the hot tub to the check out cart to determine your hot tub removal cost.
How to prepare for your above ground Hot Tub Removal
We do ask that you turn off the power to the hot tub at the breaker if you have not already done so, or at least give us access to the breaker box so that we can do it for you. Also, we do appreciate it if you can drain most of the water from the hot tub prior to our arrival. If you can't that is fine, we can cut hoses and drain it out onsite pretty quickly, it just creates a muddy situation where we walk around in your yard sometimes. Lastly, we need access to a power outlet so that we can use our sawzalls.

Please call or text us at 281-610-6682 if you have any questions or concerns.