Deck Removal Houston - How we remove decks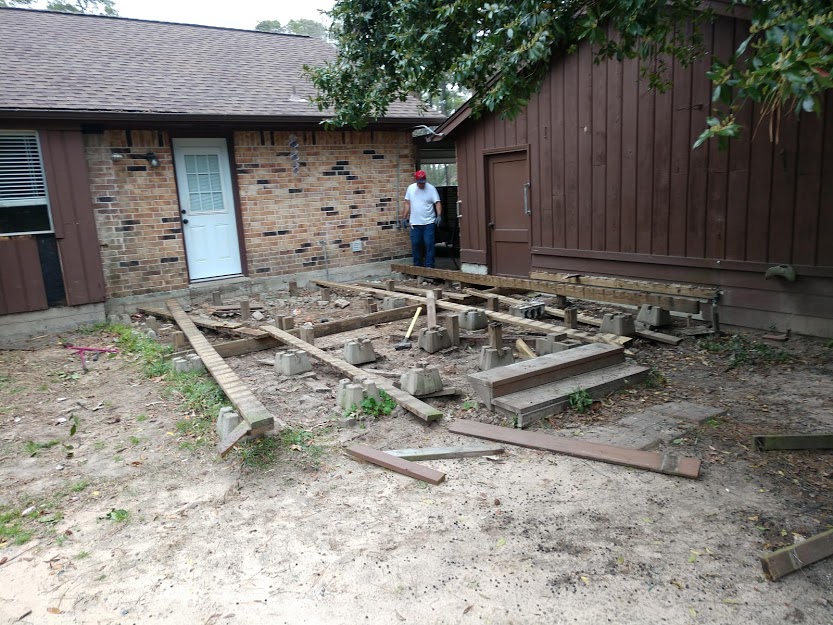 Here at snap junk removal we get a lot of calls to remove peoples rotted out wooden decks from their backyard as part of our
demolition services
. Sometimes they want to get rid of relatively will taking care of decks as well just to remodel and change their backyard.
While deck removal is not incredibly complicated it does take some hard work, tools, and sweat. We typically charge about $2.00 per a square foot for deck removal, which includes us demolishing it and hauling off and disposing of the material. Typical decks we encounter are usually between 300 and 600 square feet. Call 281-610-6682 for current pricing.
The first step we usually perform is to cut the longer boards into more manageable pieces, 8 foot or shorter, using sawzalls and circular saws. Then we pry up the pieces from the framing underneath one board at a time using three-foot-long crowbars. We typically start carrying boards out to the dumpster as we pry them up. Once the top decking is removed, we usually use a sledgehammer to bust apart the joints of the framing underneath. Sometimes these thicker boards need to be cut from the joints instead depending on if there are metal braces holding them together. typically once we bust apart the framing we also have to cut these boards into more manageable and movable shorter pieces, often times some of the framing underneath is 20 ft long. Once the top deck and framing are dismantled and thrown in a dumpster, we focus on the support beams that are embedded in the ground below. Typically the support beams are 4x4s that are concreted into the ground. Other times they have not been concreted in, or they are resting on cinder blocks and not in the ground at all. If they are lightly concreted in or the concrete is broken, typically a good few hard whacks with a heavy sledgehammer in each different direction will loosen it up enough to be pulled out by hand. If they are very heavily concreted in, sometimes it makes more sense to cut it off at the base just below the dirt with a sawzall. Sometimes, especially when it's muddy, they can be kind of stubborn and it takes a lot of work and shoveling and prying to pull out the concreted in four by fours. once we get the four by fours pulled up we throw them in the dumpster as well. One more obstacle sometimes involved in deck removal is that some of the framing will be bolted into the concrete or wood of the building or the house the deck butts up to. Care must be taken to not pry these boards away, but instead get a crescent wrench and loosen and unscrew the bolts, then the deck framing should come right off.
Another obstacle worth mentioning is that this decking can be somewhat heavy and cumbersome to move by hand from a backyard to where you can load it onto a dumpster. Many times we make use of a 4 wheel cart to stack many boards at a time and wheel them to the loading point. this is another reason for cutting the boards into more manageable pieces that we can get through Gates and around corners and other obstacles with.
If you need deck, shed, small building, or other demolition services please give us a call at 281-610-6682
Demolition Services