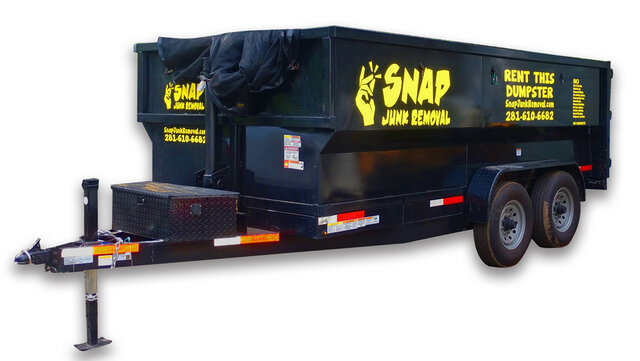 15 Yard Dumpster Share
Now Introducing Snap Junk's "Dumpster Share" Program:
Rent our 15 yard Driveway Friendly dumpsters at regular price and share it with your friends and family. Here's how it works: After you are done loading up your trash, you can pay us an extra $20 to move the dumpster to a friend or family member's house at another location so they can finish filling it. That way, there is no space wasted and you get your money's worth rather than paying full price only to fill a dumpster part way. Consider splitting the cost with your friends, family, or neighbor. We can move it up to 2 times at $20 per a move.
This selection is great for getting rid of household furniture, garage junk, and other trash when you're not sure if you need a huge dumpster and are looking to share costs with other friends and family. You can throw away mattresses, beds, appliances, desks, couches, branches, remodeling waste, shed junk and more.
Our "driveway friendly dumpsters" aren't hard on your driveway like ordinary roll off dumpsters can be because they are rubber wheeled trailers that won't scuff your driveway, and the trucks we use to drop them off aren't as heavy as roll off trucks whose immense weight can crack your driveway or culvert. We can usually place them to one side of a two car driveway so that you can park a car right by them.
Some limitations apply (must be within 20 miles of our Tomball location or milage fees may apply, scheduling is limited to our availability and regular business hours, original purchaser is responsible for any overages or hazardous materials).
$390 1-7 Day Rental, 3,000 pounds included, Max 10,000 pounds.

$20 Per Additional Day, Remodeling Waste, Construction Waste, Household Junk and Furniture

$75 Per Additional Ton, Includes Drop Off & Pickup

$20 Per Move to up to 2 additional locations within rental period
Dimensions:

-14' long

-8' wide at top, 6'9" wide at floor

-4' tall (6'3" off ground, 4' from inside dumpster floor)

-15 cubic yards